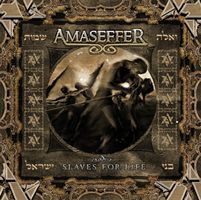 It has been a while since I wanted to write a review for this newcomers' album called "Slaves For Life" released by Inside Out. Thus, the fact they engrossed this quality label, tells you a lot. So let's start.
Amaseffer comes from Hebrew word which could be convincted as "People of the Holy Book". Imagined to be presented as the trilogy which concept is based under exodus biblical story. What we've got here is the story of Moses and the Exodus from Egypt. Amaseffer served ten, highly produced perfectly performed, songs which will keep your attention "on" all the time during listening this album. History of Amaseffer dates back in 2004, when Erez Yohanan decided to devote himself to researching historical facts of the above mentioned events. Shortly, after few weeks Yuval Kramer joined Erez, on guitars and a year latter they have got another member, second guitarist Hanan Avramovich. There were spoken that Andy Kuntz (Vanden Plas) should take participation as a singer, but unfortunately after many delays, both sides decided that's better to move forward and push luck with some other singer. After so many auditioning, they finally found spark in Mats Leven, who worked with Krux, Therion, Yngwie Malmsteen and Fatal Force. His joining represented really good stroke, what can be heard on the album. The album has recruited excellent line up, which, beside the standard one, contains: Kobi Farhi (Orphaned Land), who did perfect job with oriental vocals, Angela Gossow (Arch Enemy), Yotam Avni who performed growl vocals, Maya Avraham, Amir Gvirtzman, which flutes give indescribable atmosphere to the album, Yatziv Caspi, Yair Yona. The album has been recorded on several locations, in Germany, Israel, Sweden. Mastering is done by Markus Teske.
After this introduction parts, I want to surrender myself to music and try express the emotions it takes. It's very hard to place Amaseffer under some specific subgenre, but the sense which occupied me during listening album is that like you are watching the movie which plot could be described through the lyrical concept of the album. Soundtrack's atmospehere is maybe most approximative to determination of Amaseffer's sound. Atmospheric and ambient lines give some special grace in this musical journey, and it's easy to notice that every second, every moment while you are listening the album will be astonishing for you, listeners. Ethnic/oriental parts are something what push your adrenaline, and this album concerns of them. Someone will tell that it became a cliche, but for the people who comes from country which culture is based under that, it can be accepted with certainty it's perfectly done. Now, while I'm listening the album, I'm hearing the notes of Kamelot's bombastic symphonic sound, Evergrey's "darkness", classical guitar work taken from the best of heavy metal, Opeth's acoustics, Therion's harmonies, Symphony X's aggressiveness... If you notice something more, feel free to add. I don't know what are the members' influences, but they collected all the quality and mix it up. The art they created will find its place and stay engraved on the walls of historical legacy, exactly on the way as the concept of this story is remembered. This holiness has place in the shrine of the past and following times. I don't want to interrupt the story album carries, by separating the highlights, it's absolutely inconceivable to do. Every track reffers to previous and following ones. There's nothing more to say, check this achievement out, it will "buy" you completely. I already know what?s my choice for the best album in 2008.